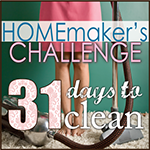 It seems like this is the month for challenges for me. There are several things going on in my life right now and God is working in my life in several areas that I will blog about soon.
However for now let me tell you about a challenge that I am doing. This is a 31 days to clean challenge. I found any book that helps me be better organized intriguing and if it is going to help me keep my house clean, I'm game.
Chapter one said that "The heart of out homes is not the ability to keep it perfect at all costs; the heart of a home is love. we live in a thing, a non eternal structure that needs to be maintained. the thing is worthless with the life we bring to it and through it." My goal has always been to have a home where people feel relaxed and loved on. I want my home to be a place where my husband can come home from work and just be. I want my home to be a safe place for my family. A place where my family can come and just be.
House work is that one thing that can make me feel good when its done and yucky when it's not. Its hard to feel good about doing something that you know will be dirty a few hours later. Why do I want a clean house?? How do I keep motivated to do the mundane when it never seems to stay done.
That is day the challenge for day 1. To know why? In order to keep going I must be able to remind myself why to give doing dishes for the 4th time in the day purpose.
So why do I want a clean house??
* Because organization makes me happy
* Because it helps my husband feel like our home is his castle
* Because it allows my kids to be able to bring their friends home knowing things will be in order
* Because Proverbs 31 in Gods word tells me that a noble women takes care of her family & her house